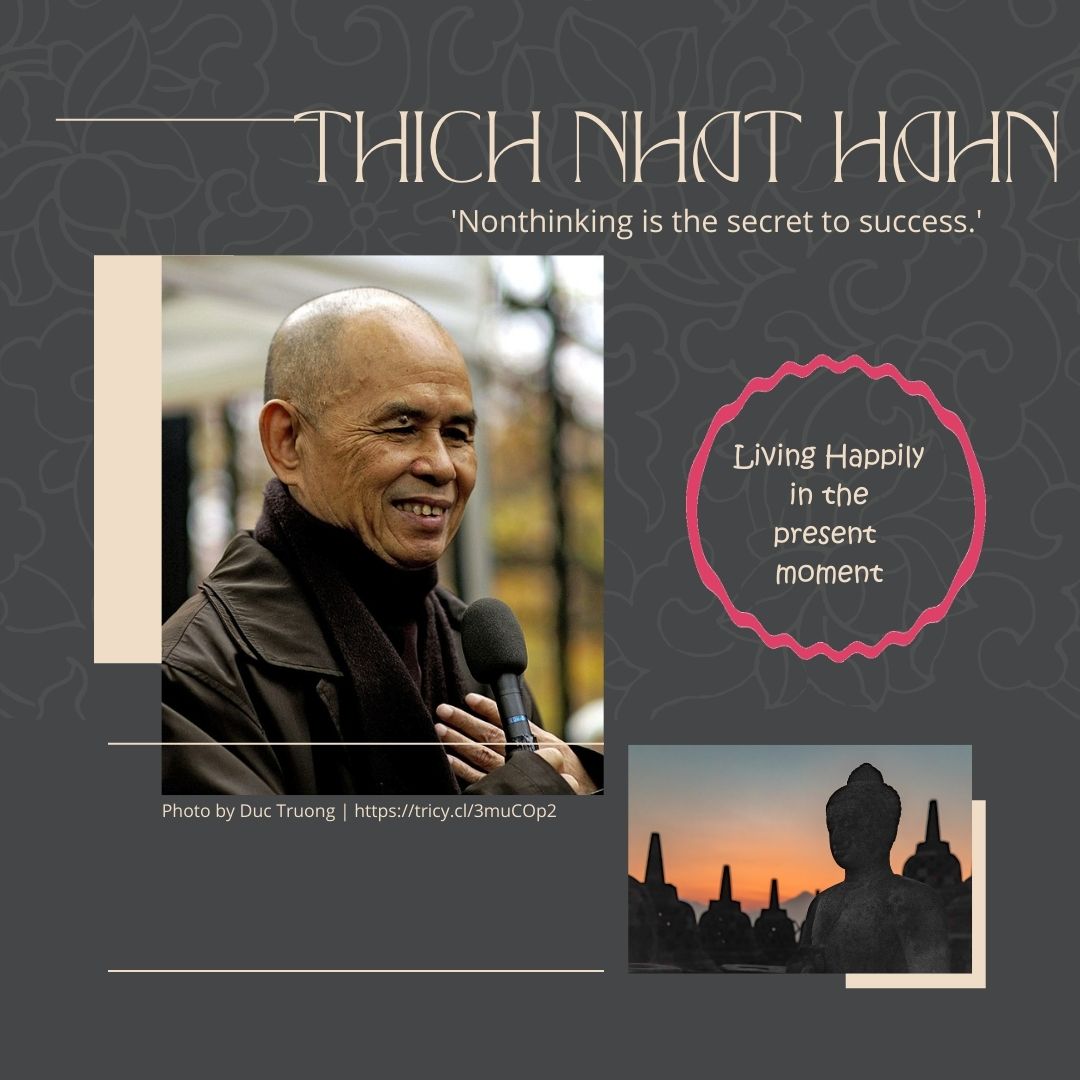 Nonthinking is the secret of success: Ruminations on experiencing Buddhist Teachings
Thich Nhat Hanh, a Vietnamese Buddhist monk who was one of the world's most influential Zen masters, spreading messages of mindfulness, compassion and nonviolence, died January 22, 2022 at his home in the Tu Hieu Temple in Hue, Vietnam. He was 95.
Prolific author, poet, teacher and peace activist,  Nhat Hanh was exiled from Vietnam after opposing the war.
Thich Nhat Hanh (pronounced tik nyaht hahn) has been, for me, a major influence on my spiritual studies and practices in life. Hearing of his passage, invokes a chronicle of his powerful books, comments, and role in a commitment to developing of sangha | community. For sure, he has guided me in transforming life towards the most positive actions.  
He's known worldwide as a leading voice in a movement he called "engaged Buddhism," the application of Buddhist principles to political movements. He is overall one of Western Buddhism's most known teachers and helped to transmit to the world the embrace of mindfulness --'the energy of being aware and awake in the present'.
When facing the death of a friend and later my mother, I returned to his teachings to remind myself of the true nature of the person and their soul.  Thich Nhat Hanh dismissed the idea of death. "Birth and death are only notions," he wrote in his book No Death, No Fear. In reading that that book, I began (and still grapple with) how to be liberated from fear, sadness and loss and how to allow us all to "enjoy life and appreciate it in a new way."
In 2013, he spoke at Google's Headquarters saying, "We have the feeling that we are overwhelmed by information,". "We don't need that much information." He continued:
"Do not try to find the solution with your thinking mind. Nonthinking is the secret of success. And that is why the time when we are not working, that time can be very productive, if we know how to focus on the moment."
His influence towards my mindfulness practice continued in Peace is Every Step: the Path of Mindfulness in Everyday Life. I started to 'run' with that concept. Taking risks, moving towards the actions where my everyday path could lead to more well-being.  
In 2020, when developing the Earth Day Poetry Initiative I gained more spaciousness in the project and saw the action of putting together a long-term project to involve future generations on the theme of  interconnectedness, Climate Change and Earth Day:
When developing a practice and teaching Peditation: Open Space, Open Minds  continued to find inspiration in his ideas of Mindful Walking and in his books, teachings and practices at The Plum village.
Remembering Dr. M.L. King this week also invokes the importance of practicing nonviolence. The Monks' teachings on mindfulness, interbeing and social action helped to influence the American peace movement along with the urging the Rev. Dr. Martin Luther King Jr. who nominated him for the Nobel Peace Prize in 1967. (That year a prize was not awarded to anyone).
"I do not personally know of anyone more worthy than this gentle monk from Vietnam," Dr. King wrote to the Nobel Institute in Norway. "His ideas for peace, if applied, would build a monument to ecumenism, to world brotherhood, to humanity."
As a lifelong Weight Watcher, I embraced how he described the senses, observations in each movement in his work, Savor: Mindful Eating Mindful Life. And, of late, I regularly used his writings or his quotes to contemplate on during the sustained Pandemic. My meditation practice has thus become more alert.
If you are drawn to explore the path and concepts of this teacher and his path, please take this as encouragement to review this Zen Masters' journals, his contributions or visit Tricycle to survey some of his most notable works.